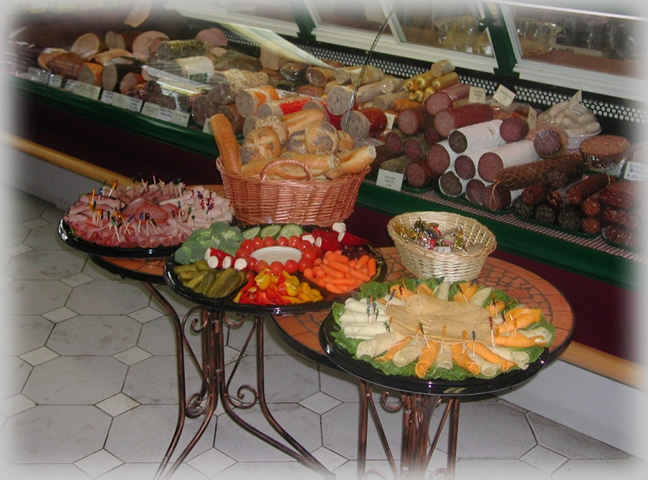 We cater lunch meetings, birthday parties, after work receptions and private functions from 3 to 200 persons. If you would like a full meal with Soup, Salad, cold Drinks, Sandwich and Dessert or just an afternoon snack – we're happy to help you with our catering experience and fresh quality products.
For 15 Sandwiches/Soups or more, please allow us one day notice. For 15 Salads or more, please contact us by the Saturday prior so that we can order fresh produce accordingly.
Meat and Cheese trays are available at any time, yet the more time we have to arrange them the nicer they will look!
Meat and cheese trays

Meat trays with capicolli and rosemary ham, sundried tomato turkey, buffalo chicken, Genoa and Hungarian salami, pastrami, back bacon, Bauernschinken, Bündnerfleisch, ham sausage, chimney sticks, Spanish chorizos and venison paté.

Cheese trays


Cheese trays with Jalapeno Gouda, smoked Zamojski, Queso Manchego, Olive & Oregano Havarti, cave aged Gruyere and Cambozola.
Sandwich trays

Choose from white sourdough, rye or wholegrain bread, and any of our deli meats and cheeses:

- Ham, turkey, chicken, salami, bacon, meatloaf, roast or smoked beef, ham sausages, schnitzel.
- Swiss cheese, Gouda, Mozzarella, Provolone, Havarti, Cheddar, Edam, Zamojski, Esrom, Parrano, Jarlsberg, butter cheese, Lappi, goat or sheep cheese.
- Lettuce, tomato, cucumber, onion, roasted peppers, black olives, sauerkraut.
- Mayonnaise, mustard, horseradish, Dijon, guacamole, veggie spread, cranberry, margarine, butter.

Also ask for our daily features and special sandwiches like the tuna melt, egg salad, veggie sandwich, grilled cheese, Reuben, B.L.T., Prosciutto avocado, Breakfast to Go, beach club, spicy Italian, bratwurst bun, bacon avocado, Italian night club...
All our full size Sandwiches are $8.00 and come with carrots and pickles on the side.

 

 

 

 

 

 

 

 

 

 

 

 

Veggie trays


Veggie trays with your choice of dip.

Combos


Add the soup of the day or a small salad to your Sandwich for an extra $2.00 to make it a Combo!

- Chicken noodle soup, cream of leek and potato, beef barley soup, cream of asparagus, stuffed green pepper soup, cream of mushroom, chili, broccoli corn chowder, Boston clam chowder, Hungarian pork goulash, minestrone, curried carrot lentil, tomato basil bisque, Italian wedding soup…
- Greek salad, tuna pasta salad, potato salad, coleslaw, bean salad, Southwest quinoa…
- For orders over 10 combos, we also make Caesar and garden salads.
Also available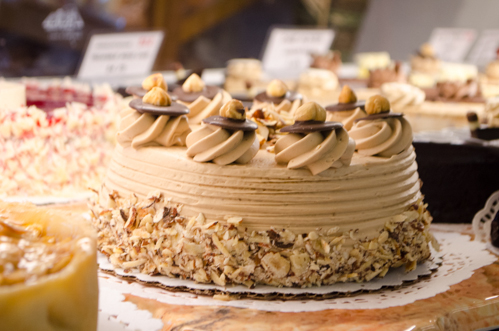 For dessert, you can ask for a cake and cookie tray from the bakery or any sweets from the store. We also carry a variety of beverages as well as full size Caesar and garden salads. Also available on request: Veggie trays with dips, fruit trays and crackers.
To make your meal complete, we offer plates, napkins, cutlery, salt and pepper free of charge.